This is a step-by-step guide on how to optimize a category in Sportal365.
---
The category properties offered in the Sportal365 CMS serve as features designed to visually enrich the look of category pages on your website and optimize them for search engines.
Remember that when you create a category, you can create a category page on your website that consists of all posts related to that category. The content properties help you optimize the page associated with the category.
Optimizing a category
Follow the steps below to learn how to optimize the categories you create. Here's how:
From the main navigation, select Categories.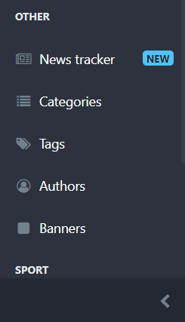 2. When the categories listing screens open, select the category you want to optimize (e.g. "Football").

3. Next, open a category and go to the content properties in the right corner of your screen. There are three tabs with properties to optimize your category–Media, URLs, SEO.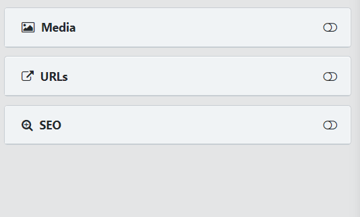 Media Tab
The Media tab is where you upload the Main media for your categories. The Main image is the image that will appear as the header (or main media) of your category page. Also, you can use a video or a gallery as the main media for your category.
Note that when you optimize the media of a category you have created, you optimize the way the page consisting of all posts related to the category will look like.
To optimize your category's media:
Expand the Media tab to select category media.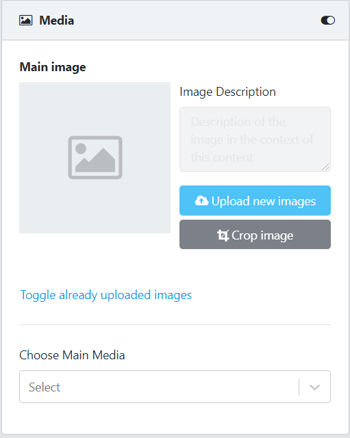 2. If you want to upload new main image(s), select Upload new images.
3. To upload already existing images in the system as main image(s), select Toggle already uploaded images.
4. To change the main media to a video or gallery, expand the Choose Main Media box and select from the options.

Note that once you select an image as the main media, you can crop it by selecting Crop image.
URLs Tab
By optimizing the URLs tab of a category, you tell search engines what category pages of your website to index and what not. This feature is especially helpful in cases such as advertising campaigns and duplicated content.
To optimize your category's URLs tab:
Expand the URLs tab.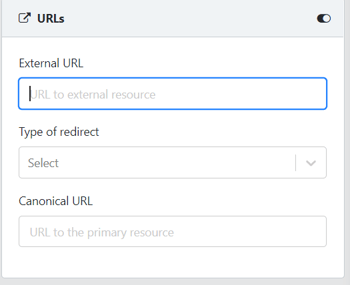 2. In the External URL box, paste the URL to an external source you want to send users to.

3. Next, expand the Type of redirect to select if you want your redirect to be permanent/temporary.

4. Lastly, if you want to avoid duplicating content, select the Canonical URL box and paste the preferred URL you want search engines to index.