Use Sportal365's widgets to display various sports information and allow users to engage, and interact with the platform.
---
The Match list by Stage / Round widget helps you integrate detailed information about a specific match into your posts.
This widget groups matches by tournaments, seasons, rounds, and stages, and filters them by dates. Also, you can add odds from different bookmakers, as well as change the widget view–horizontal/vertical–and position it in different places on your page.
The Match list by Stage / Round widget lets you configure:
Tournament, Season, Stage, and Round
To offer detailed match information, you need to first select the tournament, season, stage, and round you want to display matches for.

By selecting the View box, you can choose to display your widget horizontally or vertically on your web page.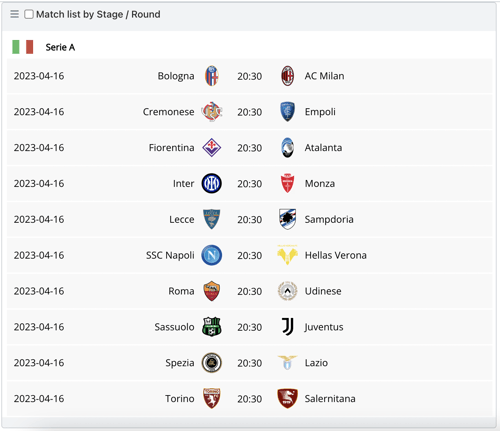 In the Title box, you can configure the title that will display on top of your match list.

When you enter a label in the Label box, you create a text (e.g. View more) with a link (URL) leading to a different page. This is useful when you want to send readers to a page with additional information about a specific match.

Note that the label will be displayed only when there aren't odds for the given match.
In this section of the widget configuration, you can use several filters to get detailed information about a match. You can set dates, arrange matches in ascending/descending order, and select bookmakers.