An Onnetwork.tv block can be added as supporting material to the body of all three main content types–Articles, Galleries, and Videos.
---
The integration with the Onnetwork.tv video platform makes it possible to find and add football (and other) videos to your posts without leaving your editing screen.
After you configure Onnetwork.tv, you can add videos as supporting content or as main media to your post.
Adding Onnetwork.tv video as supporting content
To add a Onnetwork.tv video as supporting content, you need to add a Onnetwork.tv block to the body of your post:
Open an Article, Video, or a Gallery.

Go to the body and select + icon to add a video block.

From the menu choose Content > Onnetwork.tv video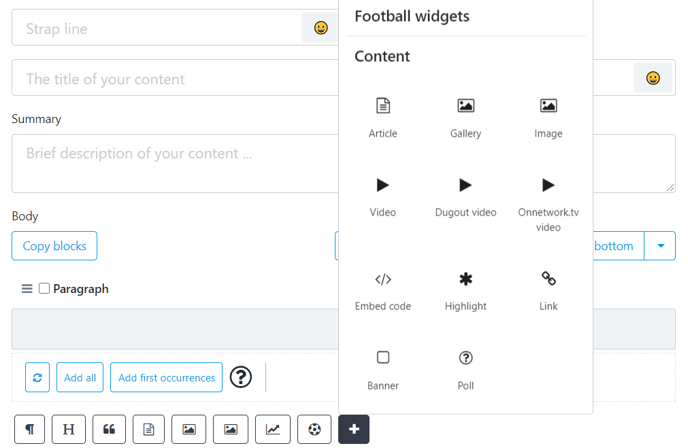 4. In the Choose video box, search by player, team, tournament, and so on for the video you want to add.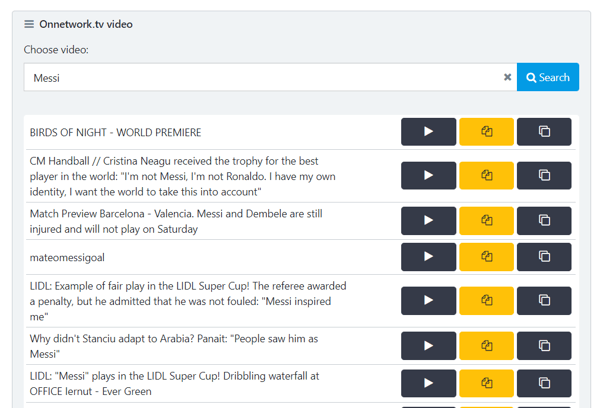 Note that you can preview your video before saving it, as well as copy the embed code or the video's ID to use it somewhere else.
5. To add a video from the list, select it, and then Save Block.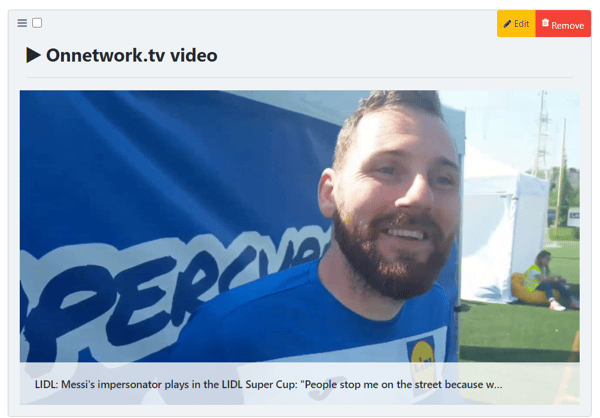 Adding Onnetwork.tv video as main media
In addition to adding Onnetwork.tv videos as supporting content, videos can also serve as the main media of your posts.
Note that Onnetwork.tv videos can only be used as main media in Articles and Videos, but you can add them as supporting content to the body of Articles, Videos, and Galleries.

To add a Onnetwork.tv video as main media:
Open an article or video.

Select the Media tab from your content properties.

Go to Choose Main Media > Embed video.

When the Video embed box opens, you can either paste your Onnetwork.tv video's embed code or select Search Onnetwork.tv videos.