Overview
The News tracker lets users subscribe to and follow their favorite information channels.
---
The News tracker allows journalists to create feeds and follow their preferred news outlets, video, and social media channels without leaving the Sportal365 CMS.
To create a news tracker feed, select a News tracker from the left sidebar and enter a title for your feed. Say, Football. You can create as many feeds as you want and each feed can contain up to 50 sources.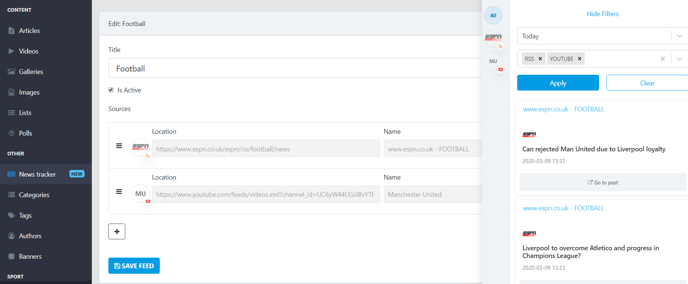 Feeds consists of a list of sources (location) and a name. A source (or location) is any of the following:
RSS (XM) feed

YouTube channel

Twitter account

Instagram account
To add a source, enter a Location and then save it. When you do that, the system will check the validity of the source (URL) and if the source is valid, the name will be auto-filled; you can change the name later if you wish. In case the source is invalid–you will see an error message.
Once you add sources to your News tracker, your feed will appear as a sidebar on the right side of your screen.