Use Sportal365's widgets to display various sports information and allow users to engage, and interact with the platform.
---
The Player career football widget collects information from regional, national, and international tournaments to create detailed profiles of a player's career.
The widget breaks down player information in tournaments, seasons, and teams, and can segments player stats into Minutes, Matches played, Yellow/red cards, Assists, Team, Championship, and so on.
The Player career widget is an excellent tool that lets you create player profile pages.
Adding the Player career widget to a post
To add a Player career widget to a post (Article, Video, or Gallery):
Select the + button to open the blocks menu.

Then, Football widgets-->Player career.

Once the widget configuration panel opens, enter a player in the Player box.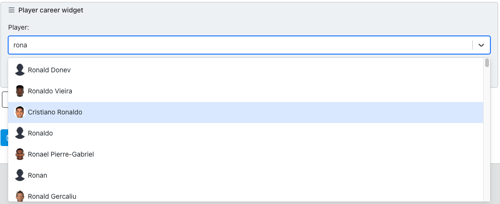 When you do that, you will notice other boxes appear below.
4. Use the Championship filter box to select a championship.

5. Select the stats you want to show in the Statistics columns box.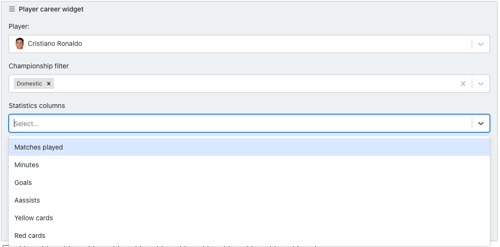 6. Next, go to Table columns and select from the options.

Note that except for the Player box, you can select one or several options in all other boxes.
7. When done, select Save Block.