Standings widget
Use Sportal365's widgets to display various sports information and allow users to engage, and interact with the platform.
---
The Standings widget provides information about the standing of teams in a specific tournament, season and stage.
Tournaments
Under the Tournaments tab of the widget, you can select the tournament you want to show team standings for. Select between Premier League, Champions League, Europa League and more.
Note that the Champions League has more stages and you will be able to show standings during a stage that has standings.
Seasons
From the drop-down menu in Blocky, you can select the season you want to include standings for. It's worth noting that every season has a default stage.
Stages
Every tournament has different stages–a group stage, an elimination stage, and other. That's why depending on the tournament you have selected you can add standing for different stages.
If you want to show the standing of the first 12 teams in Premier Division, season 2019/2020, this is how the setup of your widget will look in Blocky: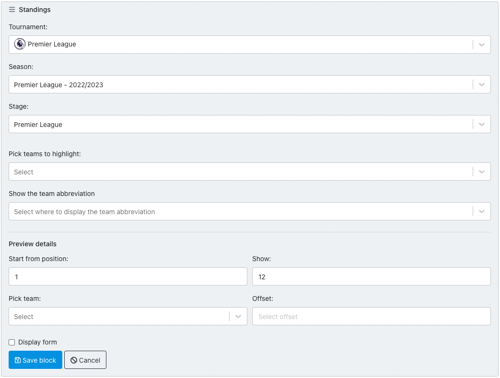 The picture below demonstrated how the Standings widget for Premiara Division with the details you have entered may appear inside of an article on your website: