Organize your posts with the help of tags and optimize the accuracy of search results.
---
Similarly to categories, tagging content helps organize posts on your website and makes search results more accurate. What's more, you can create a page that lists all the posts using a certain tag.
Tags are not hierarchical and are used to describe your posts in more detail. Moreover, tags focus on specific topics and are like keywords used for topics discussed in a post. Say, you wrote a post about Christiano Ronaldo, a famous Juventus football player. Here's an example of how you might set up the tags and categories:
Category: Football

Tags: Christiano Ronaldo, Juventus
Remember that you can also tag posts with football connections as explained in the Auto tagging feature
Note that unlike categories, adding tags is optional when creating posts.
Tag properties
The Sportal365 CMS offers tag properties that serve as features designed to optimize search engines and visually enrich the look of tags on your website.
Tag properties work in the same way as we have explained in the Category section above and they are structured under four tabs: General, Media, URLs, and SEO.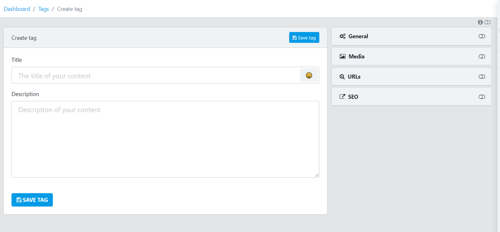 To learn more about creating tags, see How to create a tag.