Use Sportal365's widgets to display various sports information and allow users to engage, and interact with the platform.
---
The Team comparison is a widget that compares the performance of two teams for a particular tournament and season. Also, you can compare the performance of the same team but during different seasons, as well as display odds data.
Adding Team comparison widget in Blocky
You can add the Team comparison widget by selecting the +button in Blocky and then Football widgets.
To use the Team comparison widget, follow the steps:
In the Team 1 box, fill in the name of the first team you want to compare.

Then, fill in the Tournament / Season boxes.

Repeat and fill in the required information for Team 2.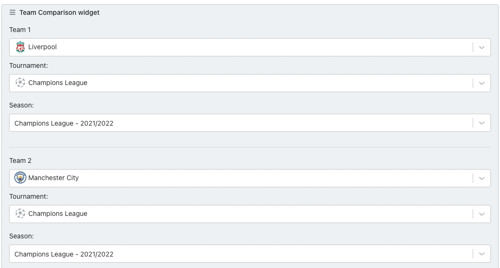 Selecting statistics to display
The widget allows users to choose what statistics to display when comparing two teams, such as Matches played, Draws, Defeats, Goals scored, Goals conceded, and more.
Adding odds data
Similarly to the Player H2H widget, the Team comparison widget lets you add odds after your team comparison section. To do that, you must select a team, a match, bookmakers, and markets to display.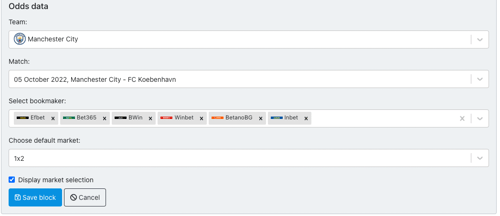 When you are done, select Save block.