Select the URLs optimization settings for the content type you are creating.
---
The URLs tab is used mainly by CMS Webmasters to tell search engines what pages of your website to index in special cases such as advertising campaigns and duplicated content.
External URL
An advertising campaign is an example of where external URLs come in handy.
Once the advertiser is ready with campaign preparations, they will send you a URL leading to their promotional page for the webmaster to paste into the External URL box.
This way, every time one of your website visitors clicks on the content you have created, they will be immediately redirected to the prepared by the advertiser page with promotional content, say, nivea.dk/new-lotion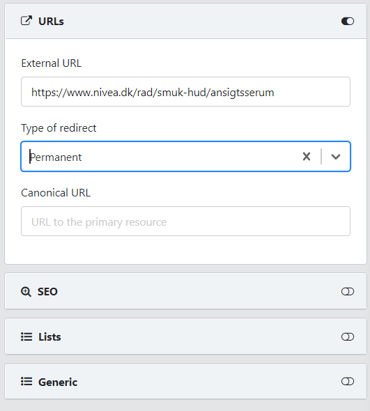 Type of redirect
You can choose from two redirect options for the external URL; Permanent and Temporary.
Permanent
A 301 redirect is a permanent redirect from one URL to another.
If you select Permanent in the Type of redirect field, this will always send site visitors to the external URL you have entered in the CMS and tell search engines to index only the page with the external URL.
When using the 301 redirects, your URLs maintain their link popularity because these redirects transfer a page's so-called "link juice" from the old page to the new.


Temporary
If you use a temporary 302 redirect, you tell search engines that you wish to temporarily direct your visitors to a new page, which shouldn't be indexed.
External URLs and permanent/temporary redirects are great feature that lets you decide which pages to tell search engines to index.
Canonical URL
A canonical URL is your preferred URL. The canonical URL is a meta tag that allows search engines to index the preferred URL for one site from the multiple URLs available.
For example, you can have five pages with similar content on your site because it serves the needs of your users, but search engines see no value in having similar pages and can penalize you.
The use of canonical URLs helps you tell search engines what specific page to index in cases where you have duplicating or similar content on your website.
Public URLs for desktop / mobile / AMP
Public URLs for desktop / mobile / AMP (Accelerated Mobile Pages) is a feature that lets you paste a link to the social media post of your Article / Video / Gallery.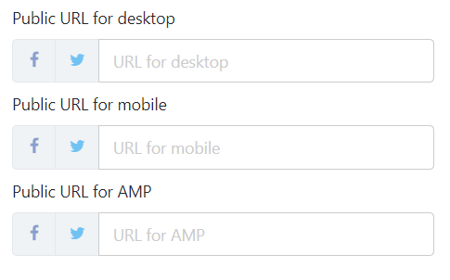 In other words, the links you paste in the boxes here will take you to Twitter / Facebook / Instagram / Linkedin–depending on how your project is set–post with the Article / Video / Gallery you have created.
The public URL links you paste in the CMS will appear at the bottom of the post on your website.