Select the general optimization settings for the content type you are creating.
---
The General tab lets creators set categories, authors, status, distribution channels, comment policies, properties and publish dates for the three main content types–Articles, Videos, and Galleries.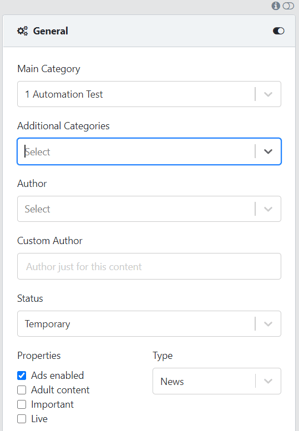 Main Category
Having a category is mandatory for creating an article, video, or gallery.
Categories are general topics or the table of contents for your site. Categories are there to help identify what your article is really about. This means that before anyone can use the CMS to create content, a category must be created.
In the Category field, select the general category that your content must fall under. For example, if you are writing an article about football, you can select the Football category as the main category.
Note that you can add only one main category here.
Additional Categories
Additional Categories are sub-categories of the main category you have decided to place your content under, say, Football.
So, if your content is under the main category "Football" and you add an additional category "Premier League", it will appear in both sections (Football and Premier League) on your website; together with all other content tagged with the same categories.
Note that you can add more than one additional category
Author
Every article, video, or gallery has an author and the Author field is where you enter the author's name. Normally, you will have only one author per piece of content, but in cases when more people collaborate, you can add more authors.
Note that the Author field is not mandatory for creating and saving a post. If you don't enter a specific author, the system will assign a default one.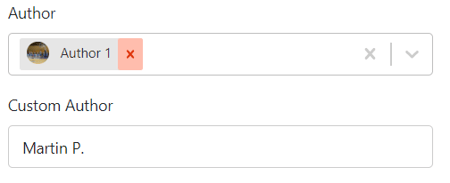 Custom Author
The Custom Author field is used for guest authors who are not part of your organization and you don't want to create a new author in the system.
Note that when you enter a custom author, the Author field will be automatically prefilled with a default author and you need to tell your front end which one to display.
Status
The Status lets you decide whether the content SHOULD (or not) appear on your website.
The Status box has three options: Active / Inactive / Temporary. If you select "Active", your content will appear on your website. If you select "Inactive", your content will be saved as a draft in the system. However, if you select "Temporary", your content will appear on your site only for a short period of time.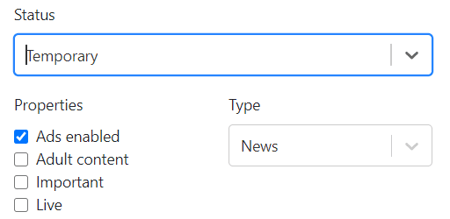 Properties
The Properties field lets creators and system operators determine what properties a piece of content should have. Properties slightly vary for the different content types and we will examine them separately for articles, videos, and galleries.
Articles properties & types
Ads enabled–By selecting Ads enabled, you allow advertising banners to appear in the body of your article.

Adult content–When you select this property, your article will be marked as containing adult content.

Important–When you select this property, your article will be marked as important on your website.

Live–Select this property if you are covering in real-time a match or a press conference.

Sensitive content–Selecting this option will mark your article as containing sensitive content.
Articles and Videos are the only content types that allow creators to define the type of article they are writing (e.g. News, Interview, Commentary, Analysis, Report, Opinion, Advertorial).
Note that while you can select more than one property, you can only select one type and the type options depend on the way your project is set up
Video properties
When you create a video, you can choose from four properties: Ads enabled, Adult content, Important and Sensitive content.
Gallery properties
Similarly to videos, galleries have only properties and you can choose to select from three: Ads enabled, Adult content, and Sensitive content.
Published From/Until
The Published From and Published Until boxes are filled when you want to keep an article on your website for a specific period of time.

Let's look at two scenarios when this could be helpful:
Scenario one: Ad campaign
If you are running an advertising campaign, you can define the time your ad post will stay on your website. For example, one week.
Scenario two: Embargo
If a football club puts an embargo on a specific topic until an official announcement is made, journalists can't publish anything about it. But they can prepare their news, upload it to the CMS, and set a publish date for the day and time of the announcement.
Note that when you create an article, if you don't set Published from, the system will set as default the date of creation. You can always go back and change it.
Distribution Regions
Think of the Distribution Regions functionality as your location filter, and a way to let an audience from a specific region see your post.
Use the box to enter a country, city, or any type of location tag you have previously created.
Note that you can use more than one region.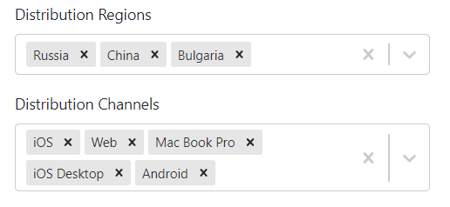 Distribution Channels
When you have to decide what distribution channel to decide for your post, think about your audience and where it consumes your content most often–desktop, laptop, iOS / Android device, and so on. This will help you optimize your content for the right channel.

Comment Policies
The Comment policies feature lets you control the way users engage with your content in the comments section of your posts. You can restrict, remove, or set any commenting policy you want.